About Us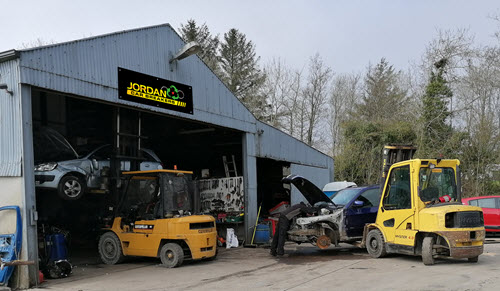 Based at Mountcharles in South Donegal, Jordan Car Breakers has been a leader in vehicle dismantling for over 40 years and today offers dismantling and recycling services that meet the highest environmental standards.
Previously known as Meehan Car Breakers, the business was established and expanded by Patsy Meehan, building a reputation for high quality services. The company was taken over by Jonathon Jordan in November 2020. Jonathon had previously worked for the business for 18 years, gaining extensive experience in this specialist field before becoming the new company owner.
Jordan Car Breakers looks to adopt a modern and innovative approach to all aspects of vehicle dismantling and recycling. High quality recycled parts are shipped throughout Ireland and worldwide by a staff team that prides itself on its excellent service and expert knowledge in the field of vehicle dismantling.
Parts removed from dismantled vehicles are cleaned, checked and catalogued and these high components are made available for sale at very competitive prices. Parts available include; bonnets and boot lids, body panels, mirrors, alternators, electrical components, gearboxes, complete engines and everything in between.
Our team have extensive experience in parts supply and can provide expert advice to ensure customers always get the parts they need.
We dismantle and depollute all vehicles in accordance with the latest EU environmental standards and aim to recycle as much of the vehicle as possible in order to minimise the carbon footprint. We will dismantle all makes and models of vehicle regardless of age.
Jordan Car Breakers is a fully licensed End of Life Vehicle Treatment Facility and is fully compliant with all Irish and European Union dismantling and recycled parts standards.
If you need to scrap your car we will complete all the necessary paperwork on the day and provide an end of life certificate for your vehicle. This means that you will not need to worry about receiving tax reminders or any related issues concerned to vehicle ownership. If your vehicle is not driving you can fill out an application form on our website and we will be able to collect your car from your house.
Opening Hours:
Monday – Friday: 9am - 6pm
Saturday: 9am -3pm
Sunday: closed

Waste Permit No. WFP-DL-18-122-02